Author: Eric Lawrence 
Date: 07/06/2020 09:14 AM
Size: 6.33 MB
License: Freeware
Requires: 10|8|7|Vista|XP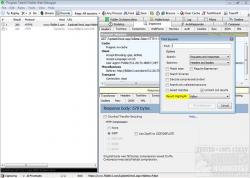 Fiddler Web Debugger
is a serviceable web debugging proxy for logging all HTTP(S) traffic linking your computer and the internet, allowing for traffic inspection, breakpoint setting, and more.
It will allow you to thoroughly inspect traffic, set breakpoints, and "fiddle" with the incoming or outgoing data and includes a powerful event-based scripting subsystem, and can be extended using any .NET language.
Fiddler Web Debugger will debug traffic from virtually any application that supports a proxy, including Apple Safari, Google Chrome, Internet Explorer, Firefox, Opera, and thousands more. You can also debug traffic from popular devices like Windows Phone, iPod/iPad as well as many others.
Version History for Fiddler Web Debugger:
http://www.telerik.com/support/whats-new/fiddler
Download : 
https://www.telerik.com/download/fiddler-everywhere
Editor's Note:
MajorGeeks downloads are for .NET 2 - Win XP, Vista, 7 (Version 2.6.2.3)