How to Add or Remove Quick Launch toolbar in Windows 10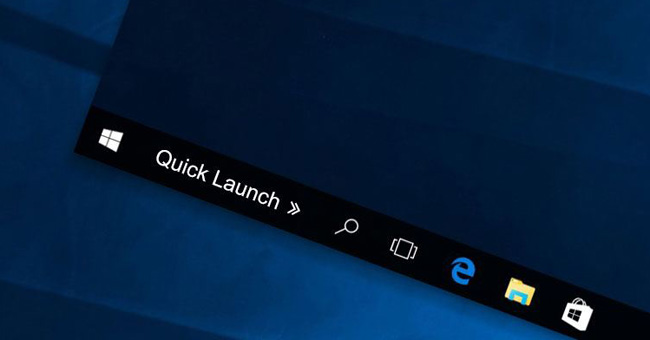 Windows includes a special application desktop toolbar called the taskbar that shows on the bottom of a display screen by default. The taskbar allows you to find, see, open, and switch between your apps. You can also see the date and time, system icons, and items running in the background on the notification area. You can make the taskbar look how you want, manage your calendar, pin your favorite apps to it, change the size, change location on screen, and specify how taskbar buttons group together when you have more than one window open.
You can also add toolbars to the taskbar. The default toolbars include Address, Links, Desktop, and any new toolbars (custom) added by the user or an application.
If you have more than one extended display connected to your PC, then toolbars will only show on the taskbar on your main display by default.
The Quick Launch toolbar is located on the taskbar when added, and is a convenient way to open programs. You can add or remove shortcuts in the Quick Launch folder so that you have easy access to items from the Quick Launch toolbar that you frequently use.
The 
Quick Launch
 folder is located at the hidden path below.
Quote:%UserProfile%\AppData\Roaming\Microsoft\Internet Explorer\Quick Launch
You can add shortcuts of items to Quick Launch by using either method below.
Drag any shortcut, file, folder, drive over the Quick Launch toolbar on the taskbar until you see either Move to Quick Launch or Create link in Quick Launch, then drop the item to create a shortcut of it in Quick Launch.


Open the hidden Quick Launch folder above, and move or create a new shortcut for the item in it.

To Remove a shortcut from Quick Launch, you can right click or press and hold on the shortcut from either the Quick Launch toolbar or folder location, and click/tap on Delete.
#TipsnTricks
#crestronsmarthome
+if code work pls share our site to ur facebook, google plus or share to ur friends to help us popular
+ Donate to help us online :
http://paypal.me/nnmanh/2
+ Reply our post the result or we never help you again.
+ Do not SPAM our Forum or get banned !!